Press
Gary Williams and Montserrat Barros.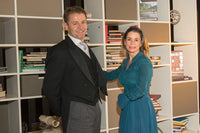 The Director of British Butler Institute on a global scale, and the founder of Hospitality & Butler, they have dedicated its life to the training in the service of hospitality and stewardship.
Gary Williams studied in Ivor Spencer International School for Administration of Stewardship in Dulwich, London. He has been a Butlers' hotels Chief like Ritz Carlton of the same city, and of the most prominent families about the world. If it was small, it founded Quintessentially Butlers, a company of concierge leader on a global scale. Thanks to its long one and very professional trajectory, it was entrusted by British Butler Institute, the only school of stewardship of the world, to be the director of the Institute.
Montserrat Barros also is the passionate one of the service, and this led her to studying in countries about the world with the target to take to Mexico the best skills in hospitality and stewardship. It founded Hospitality and Butler, company representative of British Butler Institute in Mexico, to help to perfect the skills in the service across trainings, consultancies and consultancies. Together, these two leaders of the industry have done an incredible work training the staff of the most luxurious hotels about the world, since they affirm that "the service is a global language".
Gary told us that what more he likes of its work is that it can change the life of the persons that they train (to travel about the world and to stay at the best hotels are only fees of the office). "The Mexicans are incredible", it mentioned, "they are ready to learn new things and skills", what it makes them improve in all the aspects of its life. In our country, they have qualified to staff in The Ends, Allende's San Miguel, Vale of Brave, Acapulco and Riviera Maya.
In a future, they would like being able to train persons of a free way, since they are conscious of that many, although they have the disposition to learn, cannot doing it. Meanwhile, they will keep on sharing its knowledge in the hotels, spas and more prominent restaurants about the world.