Press
Hospitality, key to boosting tourism.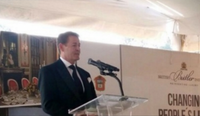 Gary Williams, a member of the British Butler Institute, gave to more than a thousand students of the Valle de Bravo Higher Studies Technology the lecture "Changing people's lives", in which he said it is time to work in the hospitality industry to enhance tourism in Mexico.
Accompanied by Rosalinda Elizabeth Benítez González, Secretary of Tourism of the Mexican entity, Williams explained to young people that they must work under three fundamental premises: provide good tourist services, anticipate customer requests and take care of details that generate visitor satisfaction.
At his time, Benítez González emphasized the importance of offering a good hospitality service to tourists visiting the different destinations that the State of Mexico has.
He also noted that Mexico is currently the ninth most visited nation in the world, representing an 8.5 percent contribution to Gross Domestic Product (GDP) by the tourism sector.
Gary Williams has served as a butler in the world's best restaurants and hotels, while the British Butler Institute offers training to provide luxury service in 14 countries, in branches such as the hotel, residences and universities
Source:http://www.hoyestado.com/2016/05/hospitalidad-clave-para-potenciar-el-turismo/