Press
It is necessary to work in the Hospitality Industry to boost tourism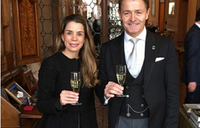 Valle de Bravo, Mexico, May 4.- More than a thousand students from the Valle de Bravo Higher Studies Technology participated in the Changing the Life of People conference, given by Gary Williams, member of the British Butler Institute, who said it is time to work in the hospitality industry to boost tourism in Mexico.
The specialist, who has served as a butler in the best restaurants and hotels in the world, as well as in English royalty, invited Mexican students, mainly those who study tourism, to give their best effort in providing services they offer to domestic and foreign visitors, always focusing on three premises: to be consistent, to seek anticipation and to focus on the small details.
"What we achieve with this is that it helps young people to open their minds, to understand: this is a professional industry.
People are visiting Mexico because they love this country and they love their people, they obviously have the resorts, with the beaches, so they already have the stage ready, now what we need is to be able to provide them with the best service on the whole planet, and now who can do this? It's you, you can do it," he said.
Accompanied by tourism secretary Rosalinda Elizabeth Benítez González and Undersecretary of Higher and Higher Middle Education, Alfredo Martínez González, Gary Williams told Mexican students that the three premises under which they must work result in providing good tourist services, anticipating customer requests and taking care of details that generate visitor satisfaction.
He indicated that the main strengths that Mexicans have, is that they are friendly people and that they have the desire to serve and serve their visitors, and now it is time to work in the hospitality industry to make hotels in Mexico always full.
For her part, the Secretary of Tourism stressed the importance of offering a good hospitality service to tourists visiting the State of Mexico and other regions of the country, especially now that Mexico is the ninth most visited nation in the world, in addition to the tourism sector contributing 8.5 of the national Gross Domestic Product (GDP).
It also indicated that tourism accounts for 10% of the world's Gross Domestic Product, and in 2015 184 million people traveled the world.
The British Butler Institute provides training to provide luxury service in 14 countries, in branches such as the hotel, sale of items, railways, residences, universities.
Source:http://www.informate.com.mx/informacion-general/edomex-notas/necesario-trabajar-en-la-industria-de-hospitalidad-para-impulsar-el-turismo.html