Press
There is born the foundation Changing People s Lives thanks to the sum of efforts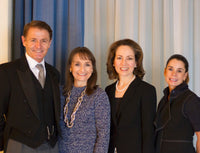 A few days ago there announced to itself the birth of the foundation Changing People s Lives, which arises in Mexico thanks to the efforts of The British Butler Institute, Hospitality and Butler and the School of Administration of Institutions ESDAI of the Pan-American University.
One of the main targets of Changing People s Lives, is to change the life of interested persons of scarce resources in being employed at the industry of the hospitality at technical level.
In the event they were present the Dra. Nancy Rosado, director of ESDAI; Gary Williams, Main The British Butler Institute, and Montserrat Barros, founder of Hospitality and Butler.
The Dra. Nancy Rosado affirmed during its participation that "it is interesting to us to qualify in the highest service level persons, to raise the operation standards in the tourist, hotel ambiences and of the hospitality in our country".
"With this training the persons of scarce resources that get out of debt in the industry of the hospitality, will be able to have the opportunity to gain access to better jobs and to better wages", he emphasized.
For his part, Gary Williams highlighted the importance of forming personnel specializing in the industry of the hospitality in Mexico, since the sector national tourism needs to invest in qualified men and women.
In turn, Montserrat Barros expressed that "it is a big opportunity to be able to share with our assistants the passion for the service and the care of the details to be able to go so far as to satisfy the needs of the most sophisticated clients".
For us "to be a report of this project, in which hardware is offered to improve the labor opportunities of the assistants across trainings achievement on the subject of hospitality with the highest world standards and without cost, it is our sand granite that undoubtedly will help to change its lives", he added.
In the frame of the works of the foundation, the certification was carried out in hospitality and luxurious service of 80 young people belonging to technical schools of the states of Mexico, Straw hat, Tlaxcala and Coahuila. Its selection departed from the best averages of its generation to be present in a free way at this certification.
The subject-matters checked to obtain it were: Hospitality in the highest level; luxurious Service; service Attitude; physical Presence and not verbal language; Anticipation, consistency and care of the small details.
With information of Pan-American university