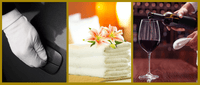 In business, when we speak about quality, we are referring to the consistency. The consistency is a determinant requisite for any successful company. For the sector of the hospitality, it is not enough to be an excellent professional, also it is necessary to give a consistent service to the clients.
Some of the main weapon to achieve this are:
Focused training
To read actively to the clients and guests
Anticipation
Care of the small details
When the consistency is achieved, of that time the excellence can continue, always accompanied by the care of the detail.
The good service is shaped by several elements, and the good host arms himself with the good example and the practice.