Press
Montserrat Barros on Chanel Mexico's Customer Experience Panel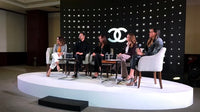 CUSTOMER EXPERIENCE EXPERT PANEL
National Sales Convention
Chanel Fragrances and Beauty 2018
The Panel that took place last Tuesday, April 10, 2018, was made in order to
nspiring and broadcasting
best customer experience practices
100 best CHANEL beauty consultants.
The Founder of Hospitality and Butler,Montserrat Barros, was present to share his experience and passion for the service of
excellence and luxury. He participated together with Macario Jiménez (Renowned high fashion designer),
Patricia Reynoso (Personal Shopper CHANEL), Yanina Serdio (Personal Shopper The Iron Palace); all representative figures
brands that have managed to go beyond the service and that offer truly memorable and unique experiences to their customers.
Topics such as: Empathy, experience and follow-up were touched; focused on l
to deliver a memorable and unique experience for every customer served.