News
Flowers, Hospitality Details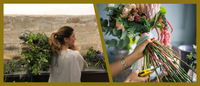 For me, the flowers are a magnificent touch of hospitality; there is not something to be compared to the experience they can offer. Within the world of hospitality, in which I have developed professionally for many years, I have had the opportunity to work with different objects and details that generate unforgettable memories for the guests; but definitely, there is nothing like the life experience that a flower can provide.
The magic that gives us the season transition is the strength that I find the flowers, although some consider it a weakness, for me it becomes a valuable tool for generating trends.  Dare to wake up your imagination and creativity, surprise with floral details to the most demanding of your guests.
The passion we have at Hospitality and Butler for the care of the details, invites us to catch the people who are interested in the world of hospitality so that they can create their own flower arrangements and put detail into every thing they present. Knowing how to make a bouquet of flowers allows you to make the look of any space, giving a touch of warmth to the table, to the trays, or to any space you want to decorate.
For table mounts I recommend that once you've picked the tablecloth and the crockery, pick the flowers so that everything is harmonized. If the tablecloth is very colorful I suggest you pick more sober colored flowers to contrast, or else if the tablecloth and tableware is monochromatic, you can play with the variety of colors and you want. Personally I don't mix strong colored flowers with soft colors.