News
Changing People's Lives Foundation: The Art of Service to Generate Better Futures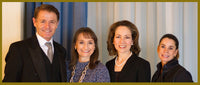 Changing the lives of people with limited resources interested in working in the hospitality industry on a technical level is the goal of the "Changing People's Lives" foundation, "Changing Lives", which was born in our country thanks to the efforts of The British Butler Institute, Hospitality and Butler and the School of Management of ESDAI Institutions, of pan-American University.
The event was attended by Dr. Nancy Rosado, Director of ESDAI; Gary Williams, Principal The British Butler Institute and Montserrat Barros, Founder of Hospitality and Butler.
In her message, Dr. Nancy Rosado stated that "we are interested in training in the highest level of service to people, to raise the standards of operation in the fields of tourism, hotel and hospitality in our country".
"With this training, low-income people in the hospitality industry will be able to have the opportunity to access better jobs and better wages," he emphasized.
For his part, Gary Williams emphasized the importance of training specialized personnel in the hospitality industry in Mexico, as the national tourism sector requires investing in trained men and women.
In turn Montserrat Barros stated that "it is a great opportunity to share with our attendees the passion for service and the care of details in order to meet the needs of the most sophisticated customers".
For us "to be part of this project, which provides tools to improve the job opportunities of attendees through conducting hospitality trainings with the highest global standards and at no cost, is our granite
that will no doubt help change their lives," he emphasized.
As part of the foundation's work, the certification in hospitality and luxury service was carried out, of 80 young people belonging to technical schools of the states of Mexico, Jalisco, Tlaxcala and Coahuila. His selection was based on the best averages of his generation to attend this certification for free.
The topics revised to obtain it were: Hospitality at the highest level; Luxury service; Attitude of service; Physical presence and nonverbal language; Anticipation, consistency and care of the small details.