Press
Hospitality, a plus in hospitality: Gary Williams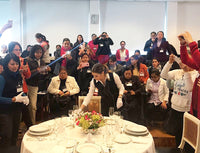 Mexico is experiencing its best in tourism, so it must invest not only in hotel construction but in hospitality training, said Gary Williams, director of the British Butler Institute, who has served as a steward in the best restaurants and hotels of the world.
"You have to invest in training, hotels must get involved so that there are more trained personnel that they (hoteliers) can select. What the government needs to do is make people realize this great industry. I think there are still many Mexicans who do not understand what hospitality is, they have not realized the great opportunities there are in it, "he said in an interview with 24 HOURS.
The English butler worked for many years with British royalty and in the main English hotels and restaurants, yesterday he gave a conference to 80 students from low-income technical tourism schools in Jalisco, Tlaxcala, State of Mexico and Coahuila, in the School of
Administration of ESDAI Institutions of the Universidad Panamericana.
Williams spoke to women about the importance of training to offer higher quality hospitality services in our country, to whom she shared her experience. "So I want to help all these people to start giving this first step of what is hospitality and expand their capabilities," he reiterated.
I emphasize that it is very important to teach them about sustainable tourism, "because after all we only have a mother earth and few resources, we have to be very careful how we treat it," he said.
Gary said that the tourism sector in Mexico requires trained personnel, so it is necessary for them to get involved by investing in human development.